Construction Codes Coordinating Board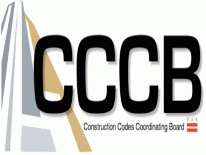 In March 2009, the Mayor established the Construction Codes Coordinating Board (CCCB) to replace the Building Code Advisory Committee (BCAC). The CCCB is charged with "reviewing and updating the Construction Codes for the District of Columbia to meet present-day demands for adequate and safe construction and maintenance of new and existing buildings and structures."
The composition, purpose, scope and procedures of the CCCB are set forth in Mayor's Order 2009-22 (February 25, 2009) (the "Mayor's Order") and/or the By-Laws of the CCCB, adopted August 2009, as may subsequently be amended. Subject to the foregoing, the CCCB procedures may be modified by the CCCB as necessary to facilitate the Board's activities. (The Mayor's Order and the By-Laws are posted on DCRA's website.)
The CCCB is an uncompensated 13-person board with members appointed by the Mayor to terms of three years. The Department of Consumer and Regulatory Affairs provides the CCCB with administrative and staff support.
In considering adoption of the I-Codes and reviewing code change proposals, the CCCB considers relevant criteria and policies including:
Minimum performance standards and requirements for construction and construction materials, consistent with nationally accepted standards of engineering, fire, and life safety;
Unique District of Columbia characteristics, policies, or statutes;
The use of modern technical methods, devices, and improvements;
Elimination of restrictive, obsolete, conflicting, duplicative, and unnecessary regulations and requirements; and
Standards and specifications for making buildings and facilities accessible to and usable by physically disabled persons.
Regular CCCB meetings are held monthly, and special meetings may be scheduled more often. Dates of CCCB meetings are published in the DC register and posted on the DCRA website. Unless announced otherwise, all meetings are be held at 1100 4th Street, SW, Washington, DC 20024.
More about the Construction Codes Coordinating Board (CCCB)
Meetings
CCCB Details
How the Board Works
The CCCB receives petitions for amendments to the code from the public and typically will send those petitions to the corresponding Technical Advisory Group (TAG) for further review. The TAG will then make a determination and either return the petition to the CCCB to render a decision or deny the petition.
Technical Advisory Groups (TAG) Information
A TAG is a subcommittee of the CCCB. Each TAG is dedicated to a particular model code (or codes) review and/or revision and is chaired by a CCCB member. A TAG will vote on any addition or change which it then recommends to the CCCB. The CCCB approves each member of a TAG and entertains each recommendation submitted by a TAG.

If you would like to apply to become a member of a TAG, please complete the application (located below in related documents) and attach your resume or a biographical sketch.
The current established Technical Advisory Groups include:
| Technical Advisory Group (TAG) | TAG Chairperson |
| --- | --- |
| Fire & Life Safety TAG | Herbert Taylor, Lt. |
| Accessibility TAG | Vacant |
| Building Code TAG | Robbie Sabbakhan |
| Electrical TAG | Jatinder Khokhar |
| Elevator TAG | Jatinder Khokhar |
| Energy TAG | Robert Hershey |
| Existing Building TAG | Marc Fetterman |
| Green TAG | William (Bill) Updike |
| Issues & Policies | Marc Fetterman |
| Mechanical TAG (Includes Plumbing, Mechanical, Boiler, and Fuel Gas issues) | Armando Lourenco |
| Property Maintenance TAG | Jatinder Khokhar |
| Residential TAG | Ethan Landis |
| Structural TAG | Alex Berley |
Please scan and send an email to the CCCB with the application and attachments. You can also fax to (202) 442-9445 or drop off the application in person at 1100 4th Street, SW, 5th Floor, Washington, DC 20024.