XIX International AIDS Conference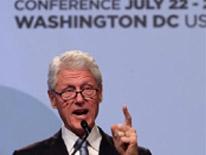 The International AIDS Society (IAS) AIDS Conference held in the District of Columbia in July of 2012 was a success. Treatments are getting better, the importance of prevention and condoms were reinforced, and ideas exchanged, as well as hope for an AIDS-free generation raised. President Bill Clinton addressed the Conference Delegates and said:
"…In the City [the District of Columbia], government and community leadership has been reinvigorated around community viral load testing and test and treat strategies. They are making a difference. Since 2007 there has been a three-fold increase in the number of people being tested every year, a ten-fold increase in the number of condoms being distributed every year, 300,000 clean needles provided every year, and 90% of the people who test HIV positive from Washington, DC see a doctor within three days."
Additionally, over 50 abstracts and posters were submitted and approved for presentations from the District of Columbia. Much time and effort was given to make this event a success.
Below are links to many of the Conference highlights sponsored by the IAS.