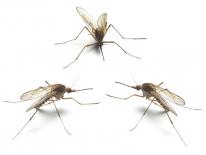 An arthropod-borne virus (arbovirus) is one that is transmitted to vertebrates by biting insects and acarines (ticks). These viruses multiply in both their vertebrate and invertebrate hosts. West Nile Virus (WNV) is an arbovirus. WNV is transmitted to humans through mosquito bites. Mosquitoes become infected when they feed on infected birds that have high levels of WNV in their blood. Infected mosquitoes can then transmit WNV when they feed on humans or other animals.
The Department of Health (DOH) has operated a West Nile Virus (WNV) program since WNV was first reported in the United States in 1999. DOH monitors WNV and other arboviral viruses in humans, mosquitoes and wildlife through the District.
Information for Physicians
Infection with West Nile Virus in humans is a reportable condition. For additional information on reporting a case of West Nile Virus, please read the Provider Alert.
Additional clinical guidance can be found on the Centers for Disease Control and Prevention (CDC) website.
Physicians: To report West Nile Virus to the Department of Health, please complete the Communicable Disease Case Report Form [PDF], include a copy of the laboratory results and fax to (202) 442-8060.
Information for Residents
View a complete list of disease factsheets offered by the Division of Epidemiology- Disease Surveillance and Investigation.
Service Contact:
Center for Policy, Planning and Evaluation Division of Epidemiology- Disease Surveillance and Invest
Office Hours:
Monday to Friday, 8:15 am to 4:45 pm