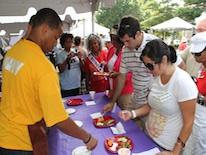 Good Nutrition is for Everyone!
The Department of Health offers a number of programs to help DC residents to choose and get the foods they need to be healthy. These programs include the following:
Special Supplemental Nutrition Program for Women, Infants, and Children (WIC) – Provides food and nutrition support services to pregnant women, new mothers (breastfeeding and non-breastfeeding), infants, and children.
Supplemental Nutrition Assistance Program Education (SNAP-Ed) Provides nutrition education in a group setting to residents of the District of Columbia where 50% or more are participating or eligible to receive SNAP that will help them to make healthy food choices that are consistent with the Dietary Guidelines for Americans and My Plate.
Food and Nutrition Resources
Key tips for improving your nutrition:
Make half your plate fruits and veggies.
Make at least half your grains whole.
Switch to skim or 1% milk.
Vary your protein food choices.
MyPlate: A tool to show consumers the recommended portion for each food group: protein, whole grains, fruits, vegetables and dairy.
MoreMatters: A site providing information on how to include more fruits and vegetables of all types in your diet.
Dietary Guidelines for Americans The recommendations are intended to help people choose an overall healthy diet.
Service Contact:
Nutrition and Physical Fitness Bureau
Office Hours:
Monday to Friday 8 am to 5 pm