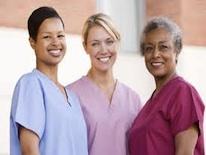 The National Health Service Corps (NHSC) is a Federal program of the Health Resources and Services Administration that provides scholarships and loan repayment to primary care providers practicing at approved sites located in/or serving Health Professional Shortage Areas (HPSAs) throughout the United States. Providers interested in receiving scholarship or loan repayment through the NHSC should contact the NHSC directly at (800) 221-9393 for more information or visit its website.
A health facility that is interested in hiring NHSC Scholars and Loan Repayers must submit an application to become an approved NHSC site. Your facility may be eligible to become an NHSC-approved site if it:
Is located in a Health Professional Shortage Area (HPSA)
Provides primary care medical, dental, or mental and behavioral health services
Provides services regardless of a patient's ability to pay
Offers discounted fees to patients who qualify
Accepts patients covered by Medicare and Medicaid
Although site applications are submitted to and final approval is issued by the Health Resources and Services Administration (HRSA), the DOH must review and approve all site applications. DOH will conduct a site visit prior to approving a site's application. To streamline the application process, sites are strongly encouraged to contact the DOH's Primary Care Bureau in advance of submitting an application to the NHSC.
For detailed information on the NHSC, including site and provider eligibility, please visit: nhsc.hrsa.gov.
Related Resources
For Applicants
For Sites
Federal Site Advisor for DC Region
Doug Whitelock [email protected]
(301) 446-1630, ext. 7230 or 1 (877) 313-1823, ext. 7230
Service Contact:
Primary Care Bureau/Community Health Administration
Office Hours:
Monday to Friday 8 am to 5 pm