The District of Columbia (DC) Department of Health (DOH) coordinates Zika virus testing for patients identified by healthcare providers in DC who meet the indications for testing. DC DOH does not provide direct patient care testing services. Please see guidance documents and updated indications for testing below.
Submitting a Test Request or Reporting a Case
Zika test requests and case reports should now be submitted online
to the DC DOH Division of Epidemiology – Disease Surveillance and Investigation using
DC Reporting and Surveillance Center (DCRC),
our online reporting system. Once received, case reports will be processed according to the following flow chart: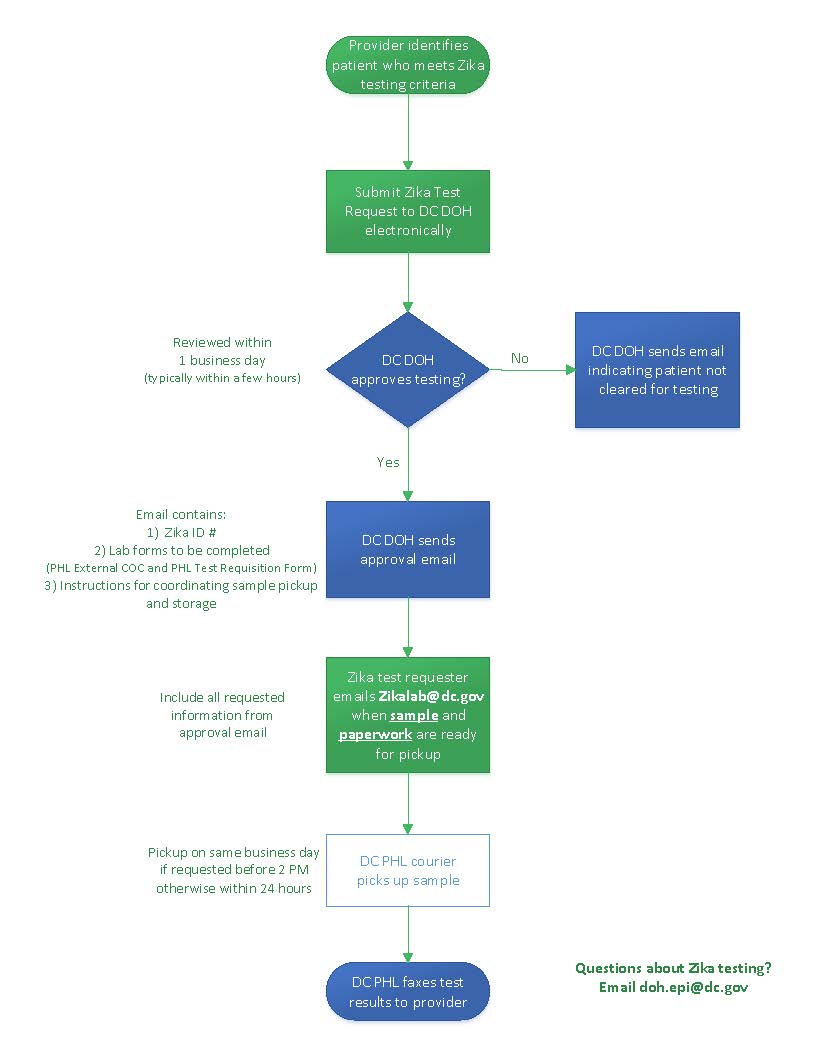 *Case report forms and Zika test requests faxed to (202) 442-8060 will only be accepted through December 1, 2016. Please transition to using the online system by this time.*
Zika Virus Disease (ZVD) Guidance and Recommendations
Key Points about Testing are highlighted below:

Indications for Testing through DC DOH (effective March 27, 2017):
Any woman that was pregnant during their last potential Zika exposure (travel or sexual), or who became pregnant within 8 weeks of their last potential exposure
Any pregnant woman who has had a miscarriage or fetal demise with a potential Zika exposure while pregnant or in the 8 weeks prior to their pregnancy
During the first month of life, any infant with a potential Zika exposure during pregnancy or around the time of birth, with or without birth defects
Any person with concern for Zika virus infection and complicated illness (Guillian-Barre Syndrome, neurologic manifestations, fetal anomaly)
Any person where it is highly suspected they are infected with Zika virus but have no known exposure history (i.e., concern for local transmission, transfusion or laboratory exposure).
Any person not meeting these criteria can consider testing through a commercial laboratory.
►Any Zika positive result, regardless of where the testing was performed, is reportable to DC DOH
Sample Collection:
Please submit serum and urine samples for all patients when specimens are collected within 6 weeks of exposure.
Special Considerations for Pregnant Patients:
Please submit serum and urine samples for all pregnant women being tested
Pregnant women with evidence of recent flavivirus infection should be considered to have possible ZVD and should be monitored in the same way as women with confirmed ZVD.
Asymptomatic pregnant women tested within 2 weeks of exposure and a subsequent negative rRT-PCR result should return for IgM testing 2-12 weeks after the last possible exposure.
Special Considerations during Delivery and for Newborns:
Standard precautions are recommended during delivery.
Infant serum and urine should be collected for testing in the first 2 days of life (cord blood is no longer recommended).
Placenta and umbilical cord samples should be collected at the time of delivery and sent to Pathology for sample preparation (see Sample Collection Instructions below).
An assessment of all infants exposed to Zika virus should be performed before discharge from the hospital. Details can be found in the DC DOH Health Notices or the CDC Morbidity and Mortality Weekly Report (MMWR) on Guidance and Evaluation of Infants which are both updated periodically.
Infants exposed to Zika virus should be followed during the first year of life with the "Infant Follow-up Form" below at 2, 6, and 12 months and reported to DOH.
Zika Pregnancy Registry
The Zika Pregnancy Registry was established by the Centers for Disease Control and Prevention (CDC) to monitor long-term outcomes of pregnant women and infants possibly exposed to Zika virus.
The goal is to understand the impact of Zika virus infection, and use the information to plan services for families affected by Zika virus disease and update recommendations for clinical care.
Pregnant women and infants with laboratory evidence of possible Zika virus infection (positive or equivocal results regardless of symptom status) are eligible for inclusion in this Registry.
Please contact the Division of Epidemiology-Disease Surveillance and Investigation Zika Pregnancy Registry Coordinator with questions or for more information: [email protected].
Additional information about the Zika Pregnancy Registry
Important Health Messages during Mosquito Season:
Please be vigilant of ZVD symptoms in persons who have not traveled outside of the United States. If you are concerned about ZVD in a patient without a positive travel history, please contact DOH.
Returning travelers from an area with active Zika virus transmission should wear insect repellant and avoid mosquito bites for three weeks to prevent local transmission, even if they are not sick.
Important Forms and Documents
Helpful Links