DC Healthy Start Project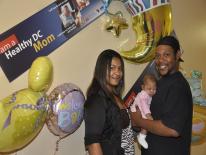 What is Healthy Start?
Healthy Start is a free program for pregnant and parenting mothers and fathers in Wards 5, 6, 7 and 8. Our goal is to improve birth outcomes and improve the health and development of infants into early childhood. Some of the services provided by Healthy Start are:
FREE Pregnancy Testing
Depression Screening
Substance Abuse Screening
Domestic Violence Screening
Child Development Assessments
Case Management
Male Support Services
Parents as Teachers Curriculum
Health Education
Home Visits by a Nurse and Family Support Worker
Curbside Mobile Health Services
Parenting
Who can get Healthy Start Services?
Pregnant women and postpartum women with infants up to three months of age are eligible to enroll in Healthy Start. Once enrolled, parenting mothers and fathers can continue to receive services up until the child's second birthday.
How can I enroll in Healthy Start?
Call 1 (800) MOM-BABY 1 (800) 666-2229) for information on enrolling in Healthy Start.
JOIN THE HEALTHY START CONSORTIUM
DC Healthy Start Community Consortium, Inc. represents the voice of the community in Healthy Start. The Consortium educates the public and identifies ways for Healthy Start to increase healthy birth outcomes, promote healthy babies, and promote change for women of childbearing age and their families in DC.
The Consortium meets every 3rd Wednesday of the month from 11 am – 1 pm. Please call (202) 442-5925 if you are interested in participating in the Consortium.
Service Contact:
Perinatal and Infant Health Bureau
Office Hours:
Monday through Friday 8:15 am – 4:45 pm