Pregnancy Services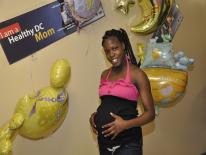 The District of Columbia Department of Health provides services to women to assist them if they are pregnant or want to know if they are pregnant. Men can also receive services to assist them with parenting or pregnancy prevention. Services include:
Free pregnancy testing
Free condoms
Family planning counseling and referral
Free Pregnancy Tests and Birth Control
Even at the very beginning of a pregnancy, your baby is developing fast, so it's important to find out early on if you're pregnant.
Women can obtain a free pregnancy test by calling 1-800-MOM-BABY (1-800-666-2229) to find a location near them.
Both men and women can receive free condoms and family planning counseling and referral by calling 1-800-666-2229.
For information call 1-800-MOM-BABY (1-800-666-2229).
Prospective and eligible parenting women and men also have an opportunity to participate in programs geared to educate and support their needs. These programs include:
DC Healthy Start Project (DCHS) enrolls pregnant and postpartum women with infants up to 3 months. The Project provide case management/home visitation to eligible participants until the child's second birthday. The Project also provides free pregnancy test and screenings in community settings as well as mobile curbside health services for pregnant and parenting women. The Project's male component recruits and case manages men with infants up to 1 year old. The goal of the project is to improve birth outcomes and reduce the numbers of infants that die in Wards 5 thru 8.
DC Linking and Tracking Surveillance (DCLTS) identifies and refers infants born in the District of Columbia who are at-risk for developmental delays and disabilities through early identification and linkage to services. The program seeks to improve the health outcomes of children between the ages of birth – three years old.
Safe Cribs Program is an initiative designed to reduce the infant mortality rate and the likelihood of Sudden Infant Death Syndrome (SIDS), suffocation and roll over deaths caused by bed sharing. The program promotes and educates parents and caregivers and provides a safety approved pack-n-play to insure a safe sleeping environment for their infant.
Service Contact:
Perinatal and Infant Health Bureau
Office Hours:
Monday to Friday 8:15 am to 4:45 pm