Vital Records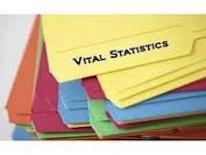 Office Hours: 8:30 am to 3:30 pm
Vital Records is responsible for collecting, preserving and administering the District's system of birth and death records. The District of Columbia began recording births and deaths on August 1, 1874. In accordance of the Vital Records Act of 1981, information is obtained from hospitals, the Medical Examiner's office, funeral directors and other states.
Persons entitled to obtain a certified copy of a birth or death certificate are applicants having "direct and tangible interest". DC Code Section 7-220(1) states "the registrant, a member of his or her immediate family, his or her guardian, or their legal representatives shall be considered to have a direct and tangible interest. Others may demonstrate a direct and tangible interest when information is needed for determination or protection of personal or property right".
The term "legal representative" shall include an attorney, physician, funeral director or other authorized agent acting in behalf of the registrant or his or her family.
The term "immediate family member" includes mother, father sister or brother. Proof of relationship is required.
Birth or death certificates will only be provided, if the birth or death occurred in the District of Columbia. Copies of these records may be requested in person at 899 North Capitol Street, NE, First Floor, Washington, DC 20002, by mail or via the phone 877-572-6332 and online through VitalChek.com.
Service Contact:
Center for Policy Planning and Evaluation, Vital Records
Office Hours:
Monday to Friday 8:30 am to 3:30 pm